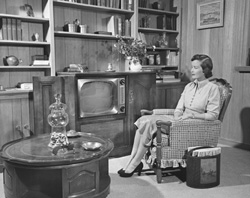 The expression "laughter is the best medicine" should remind us the importance that humor plays on our well-being. Laughter can help us deal with pain, boost our immune system and ward off depression. Now that the holidays are behind us it is the perfect time of year to not only nourish our bodies, but to nourish are souls. Winter may force many of us to spend more time indoors but it is also the time of year that our television sets can help lift our spirits. January begins new tv programming and a comedy show may be just what the doctor ordered. Comedy and television are the perfect combination and have a rich history. Did you ever wonder how comedy programs became such an important part of television?
While classic comedy most likely began with the first caveman accidentally making an animal skin whoopee cushion, no one could have possibly predicted the role that television would play in American comedy. Television would prove to be the invention that gave comedy its true home.
During the early 1900s, the type of entertainment called vaudeville was sweeping across the country. This traveling early form of the variety show included music, dance, circus acts and various types of comedy-type sketches. Radio sitcoms such as Amos 'n Andy and The Goldbergs, were comedy favorites during the 1920s. Charlie Chaplin's feature film, The Kid was released in 1921. Chaplin showcased his athletic ability through his signature physical comedy while still allowing his vulnerability to shine through. When talking pictures came about in 1928, the traveling vaudeville shows ended.
During the 1930s the Marx Brothers combined silly physical comedy with clever political satire. It was a deliberate reflection of the Depression-era frustrations. The Marx Brothers' movies contained a stream of wisecracking comments and gags directed towards upper class society. Many of these were often filled with sexual innuendo. Today their talent is enjoyed by new generations thanks to the popularity of their movies on dvd. Other early 1900s comedy favorites from the silver screen included Abbott and Costello, Laurel and Hardy and W.C. Fields.
The invention of television brought the world of comedy into America's living room. T.V. broadcasting actually began in 1939 but the onset of World War II brought production to a stop. Television sets started being made again in 1945 and by the early 1950s, comedy found a permanent home on this medium.
The star-based television shows from the early 1950s came out of the styling of the radio shows. The Jack Benny Program was on the air for 15 years and became one of the longest running comedy shows in history. Mr. Television, Milton Berle, became a household favorite with his show, The Texaco Star Theatre. Here, 75% of the television sets on Tuesday nights were tuned into NBC to see their "Uncle Milty." His style was quick, brash and silly and because it was live television, many unpredictable things occurred. You never knew what would happen.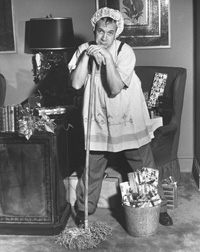 Your Show Of Shows, starring Sid Caesar, was a comedy-sketch show which used a cast of performers that brought audiences to laughter. Carl Reiner, Imogene Coca and Howard Morris played numerous characters and worked alongside Sid Caesar doing spoofs on other shows as well as audience participation games.
Another favorite of this "Golden Age of Television" was The Burns And Allen Show which starred George Burns and his real-life wife Gracie Allen. This was more of a situation comedy where the stars play themselves but get into crazy predicaments. These episodes covered one situation instead of a bunch of separate skits. This show lasted for eight years and always ended with the famous sign off, "Say goodnight Gracie."
Probably the most influential comedy of this era was the I Love Lucy show which aired in 1951 and was the first television show to be performed in front of a live audience. Lucille Ball really stole the show with her natural knack for physical comedy and her unforgettable facial expressions. The birth of their onscreen son, "little Ricky," aired the same day their real son, Desi Arnez Jr., was born. This event came close to overshadowing the inauguration of President Eisenhower the very next day. I Love Lucy has been in syndication ever since it began and is shown in reruns throughout the world pleasing audiences in many languages.
Other popular comedy shows during the 1950s included The Adventures of Ozzie and Harriet, Our Miss Brooks, The Ernie Kovacs Show, Mr. Peepers, Father Knows Best, The Life of Riley and Make Room for Daddy. The Red Skelton Show began in 1953 featured zany skits using mime and Red Skelton's famous clown character. This show became the longest running comedy show and remained on the air until 1971.
During the 1960s, situation comedies took a different road. Instead of the usual formula where unpredictable happenings occur to regular people, the scenario here was that the people were far from "regular." Shows like The Flying Nun, I Dream of Jeannie, My Mother the Car, My Favorite Martian and Bewitched were all programs that dealt with the silly and supernatural world colliding with the "real" world. With all the serious changes going on in America during the 1960s, perhaps viewers needed these types of shows as an escape from the reality being aired on the nightly news.
Variety shows were also a humorous way to escape during the 1960s. The Carol Burnett Show combined silly spoof-like sketches with musical numbers and became an all-time hit. This show was taped in front of an audience, but it had the flavor of a live show because they purposely left in bloopers and mistakes when it aired. These laughing fits and practical jokes that went on during the skits had viewers at home rolling on their living room floor. You never knew what would happen, (especially when Tim Conway was on )!
In 1968, Rowan and Martin's Laugh-In took the country by storm. It was vaudeville-like in its brashy and slapstick style while at the same time dealing with political and racial issues. It was fast moving and poked fun at the establishment. Cameo appearances were done by all types if people in the entertainment business, as well as famous political personalities. Who can forget Richard Nixon delivering the line, "Sock it to me?" This show got away with a lot of the taboo other shows couldn't. The Smothers Brothers Comedy Hour was an example of a show that proved to be too controversial for television at that time.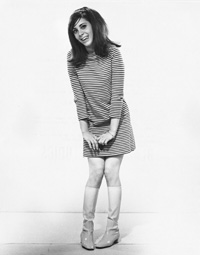 The 1970s saw the variety show The Sonny and Cher Hour, which combined both music and comedy. Women as the lead character in a sitcom became popular during this decade as well. The Mary Tyler Moore Show, Rhoda, Alice and Laverne and Shirley were big hits and proved that America was ready for shows about women handling life on their own. The 70s also saw a new type of show called the human "dramedy." M*A*S*H was a show that dealt with a very serious issue, the Korean War, and carefully placed humor and witty dialogue throughout the program. It was the first of its kind. It was the prerequisite for many of today's favorite dramas that add timely comic relief.
In 1975, late night television tried something new. Saturday Night Live began as an after hour live variety type comedy show also featuring musical guests. This show really pushed the envelope by airing skits that were both politically and sexually daring. It was a liberal and controversial show that became an immediate favorite among college students. SNL has remained on the air ever since and other shows, such as Fridays and Mad TV have tried to copy their format. Producer Lorne Michaels knew that this adult-type comedy was what the late night crowd was yearning for. The success of NBC's Thursday night's schedule back in the mid 80s helped revitalized the popularity of the situation comedy. With The Cosby Show, Family Ties, Cheers and Night Court, audiences were staying home and laughing in front of their televisions again. 1989 introduced a new form of comedy television, the prime-time cartoon. The Simpsons premiered as a cartoon sitcom that used sarcasm to make its point. American Baby Boomers embraced the idea of an adult cartoon.
The 1990s continued to be a decade of television filled with comedy programming. Comedian-based sitcoms began with the mega-hit, Seinfeld. Other stand-up comic sitcoms followed such as Grace Under Fire, The Drew Carey Show and Everybody Loves Raymond. Situation comedies filled up a lot of the network television prime time viewing slots. The other nightly programming consisted of drama comedy shows and news-magazine shows.
In the new millennium comedy still dominated the airways. One big change during this time was the onset of reality tv programming. This form of entertainment is unscripted and usually features ordinary people in different situations. While this idea can be trace back to 1948s Candid Camera, the new reality shows took it a step further. Shows like Big Brother, Survivor and American Idol displayed comedy in more of a "laughing at them/not with them" style. Today reality shows have become an even bigger part of television programming. The cable networks have really cashed in on this trend. Now you can find reality shows about singing, dancing, beauty, home renovation, cooking, sports, job search, dating, and weight loss to name a few. These shows mix a large dose of drama in with the comedy adding an almost "voyeuristic" feel.
Situation comedies are still a big chunk of the programming on the air today. While the subject matter dealt with on these sitcoms has changed drastically, their basic format has not. Funny things happen to the show's characters and life's problems are always solved in a half an hour. Today's drama shows are also filled with comedy and contain quick humorous dialogue. Late night programming now has numerous talk shows containing monologues and skits to make us laugh (those of us able to stay up late enough to watch). Cable television has opened the door to alternative comedy styles that would never have been shown on network television. Here dark comedies with adult themes have found an audience. Also, talk shows featuring politically-based satire are a very popular genre on cable.
Comedy on televisions is still an escape. This is especially true in the stressed out lifestyle many of us now live in. We have 24-hour news channels constantly reminding us of the serious problems of the world around us. Humor and comedy are more important than ever. Our television can help us laugh through the toughest of times.