Trying to come up with gift ideas for a homebound loved one can make frustration set in.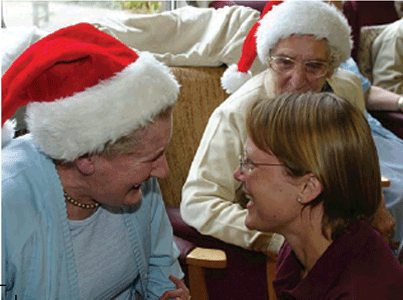 For those of us this holiday season trying to come up with gift ideas for a homebound loved one, frustration can really set in. We want to especially show caring and support to these important people in our lives, but finding a meaningful gift is hard to do. Well here are a few suggestions to get the ball rolling and to begin thinking outside the box.
Due to some physical limitations, my mother has trouble going out shopping. She loves sending cards for family birthdays, anniversaries and other special occasions but doesn't always have a way to buy the cards and mail them out. A few years ago I had a great idea to help her with this. I purchased one of those accordion-type files with multiple sections. I labeled them with different occasions such as: birthday, get well, sympathy, congratulations, etc. I then went out and bought different cards (many from sale racks and assorted card boxes) and put a bunch in each section. I also added some postal stamps and stickers for the envelopes. You may also want to include a calendar with friends and family birthdays filled out to help keep track of the important days. She loved this gift and this past year, I re-filled the card file for Mother's day.
If you live near a person who is homebound, planned dinner engagements can be another wonderful gift. Our family had an idea of a year of international dinners for an older relative. We would pick her up (or you could bring the dinner to the person's home) and each month would have a different county's themed dinner. On our "Russian" night, we served beef stroganoff, with different Russian side dishes and some delicious ethnic cookies. We all dressed up to look the part and had Russian music playing in the background. Each month can be a different country or region and kids love to help plan the menu and pick out the costumes. If you don't cook, you could take-out from different themed restaurants and do the same thing. If your loved one would like to get out of the house, you could take them out to these dinners. Of course diet restrictions may come into play, but with a little planning, these things can be worked out. If your loved one is an early riser, a breakfast or brunch engagement might be better. Customize it to your needs. We put the twelve decorated dinner invitations in a festive box and wrapped it up for Christmas. She immediately started planning what she would wear for our January dinner!
An important factor in this type of gift giving is that you have to be flexible. Health problems can cause things to be cancelled and postponed and you need to be able to work around it. If you buy tickets to certain outings, you may want to wait until the actual day to get the tickets. You can give a handmade coupon or voucher and wrap it up to let them know about it and then have the real one when it is the day you go. Some venues allow you to buy an open ticket to a show and then you pick the date you go. Some places will let you switch out tickets to other days, but you need to ask these questions first. You also want to check out the location to see if it is accessible to the needs of your loved one. If the person you are taking is in a power wheelchair for example, you will want to make sure the venue is handicap accessible.
If you have a person unable to leave their home, you can bring the entertainment to them. A planned movie night is another great gift. You can provide the video, snacks and company. Maybe there is a classic award winning movie that your loved one has always wanted to see, but never did. You could have an "Oscar Night" complete with walking the red carpet in a glamorous outfit. Then like on any premier night in Hollywood, watch the movie in style. The best part of this is looking forward to doing something different and spending time with the people you care about. This also works well for the males in your life too. All those old westerns and suspense movies are also available to rent and are a lot of fun to watch together.
Some other more practical ideas might include helping someone reorganize their home so it works better for them. For example, my sister took a day and moved all my mother's daily kitchen items to lower cabinets so it would be more accessible to her. She put things she hardly ever uses in the upper cabinets. What a difference this made in her life!! Maybe a person needs help switching out spring and summer clothes to their fall and winter clothes. Perhaps a relative could use help organizing and throwing out paperwork that has been cluttering up their home. These simple acts we can easily do for others are acts that are remembered forever.
These holiday ideas are meant to help get you thinking about a different type of gift giving. Take a walk around where you live and try to picture what it would be like if you were not able to do the things that help organize your life. When people are dependent, they save their asking for the "bigger" favors and not things like these. These little acts are gifts. It is what can really brighten a person's day. All of us probably have an hour or two in our week to contact someone who is stuck at home. These connections are what makes this time of year so special. Like your grandparents said, gifts that come from the heart are ALWAYS the best.