Seat Lift by Uplift
Free Nationwide Delivery on All Seat Lifts
If you need help standing from a chair, then seat lifts are your ideal solution. Seat lifts can be used on any chair. Whether you have a medical condition like osteoperosis, cancer or have had a stroke, or you just have some leg pain or need a bit of boost to get out of the chair, a seat lift could be just the thing the doctor prescribed. As a matter of fact, ask your doctor is a seat lift is covered by your insurance.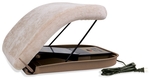 Shipping Included / Ask About White Glove Delivery
Weight Capacity : 300 lbs.
Base Depth : 17.5"
Base Width : 14"
Seat Depth : 19.5"

Seat Width : 17.1"
Seat Height Open : 10"
Seat Height : 3"
Unit Weight : 12.3 lbs.

All sales are subject to Tampa Lift Chair Showroom's Return Policy as published on our web site.